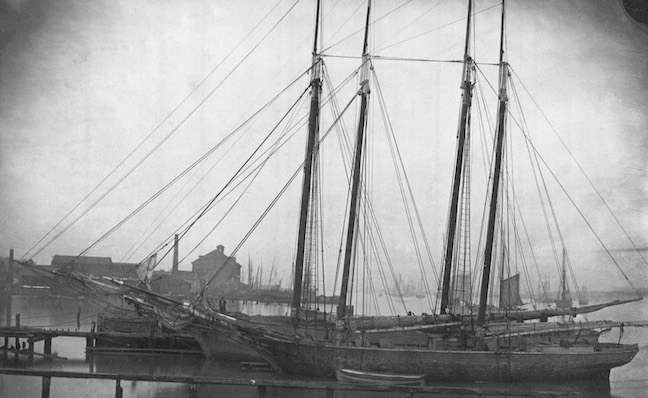 Wikipedia says: A schooner is a type of sailing vessel defined by its rig: fore-and-aft rigged on all of 2 or more masts and, in the case of a 2 masted schooner, the foremast generally being shorter than the mainmast. A common variant, the topsail schooner also has a square topsail on the foremast, to which may be added a topgallant. Differing definitions leave uncertain whether the addition of a fore course would make such a vessel a brigantine. Many schooners are gaff-rigged, but other examples include Bermuda rig and the staysail schooner.
The origins of schooner rigged vessels is obscure, but there is good evidence of them from the early 17th century in paintings by Dutch marine artists. The name "schooner" first appeared in eastern North America in the early 1700s. The name may be related to a Scots language word meaning to skip over water, or to skip stones.
The schooner rig was used in vessels with a wide range of purposes. On a fast hull, good ability to windward was useful for privateers, blockade runners, slave ships, smaller naval craft and opium clippers. Packet boats (built for the fast conveyance of passengers and goods) were often schooners. Fruit schooners were noted for their quick passages, taking their perishable cargoes on routes such as the Azores to Britain. Some pilot boats adopted the rig. The fishing vessels that worked the Grand Banks of Newfoundland were schooners, and held in high regard as an outstanding development of the type. In merchant use, the ease of handling in confined waters and smaller crew requirements made schooners a common rig, especially in the 19th century. Some schooners worked on deep sea routes. In British home waters, schooners usually had cargo-carrying hulls that were designed to take the ground in drying harbours (or, even, to unload dried out on an open beach). The last of these once-common craft had ceased trading by the middle of the 20th century. Some very large schooners with 5 or more masts were built in the United States from circa 1880-1920. They mostly carried bulk cargoes such as coal and timber.