Tag: by Russell (Andrew J.)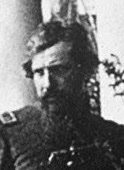 Wikipedia says: Andrew Joseph Russell (1829–1902), was born in Walpole, New Hampshire, the son of Harriet (née Robinson) and Joseph Russell. He was raised in Nunda, New York. He took an early interest in painting, and in addition to executing portraiture for local public figures, he was drawn to railroads and trains. During the first two years of the Civil War, Russell painted a diorama used to recruit soldiers for the Union Army. On 22 August 1862, he volunteered at Elmira, New York, mustering in the following month as a captain in Company F, 141st New York Volunteer Regiment. In February 1863, Russell, who had become interested in the new art of photography, paid free-lance photographer Egbert Guy Fowx $300 to teach him the wet-plate collodion process.
Capt. Russell's first photographs were used by Brigadier General Herman Haupt to illustrate his reports. Impressed with his work, on 1 March 1863, Haupt arranged to have Russell detached from his regiment and assigned to the United States Military Railroad Construction Corps, making Russell one of only two, Federal non-civilian Civil War photographers (Pvt. Philip Haas)… In fact, Russell took over a thousand photos in two and a half years… He's probably best known for "Stone wall at foot of Marye's Heights, Fredericksburg, Va." showing dead Confederates of Barksdale's brigade, during the battle of Chancellorsville.
negative sizes:
6.5 x 8.5 (Fowx's, used 1863.02-04)
4.5 in. x 10 in. stereo (acq. 1863.02-03)
8 x 10 (Fowx's, used 1863.02-04)
8 x 11 (acq. 1864.05)
10 x 13 (acq. 1864.05)
11 x 14 (acq. 1863.03.25-27)
14 x 17 (acq. 1863.03.25-27)