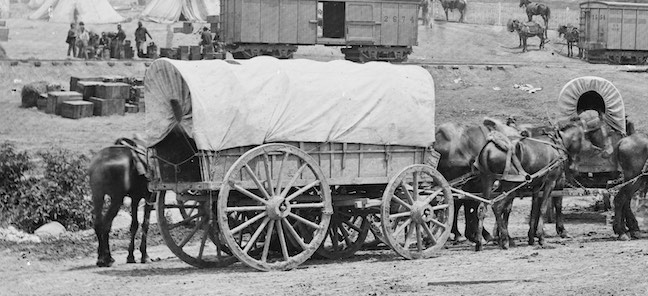 Wikipedia says: Freight wagons are wagons used for the overland hauling of freight and bulk commodities.
In the United States and Canada, the Conestoga wagon was a predominant form of wagon used for hauling freight in the late 18th and 19th centuries, often used for hauling goods on the Great Wagon Road in the Appalachian Valley and across the Appalachian Mountains.
Even larger freight wagons existed. For instance, the "twenty-mule team" wagons, used for hauling borax from Death Valley, could haul 36 short tons (32 long tons; 33 t) per pair. The wagons' bodies were 16 feet (4.88 m) long and 6 feet (1.83 m) deep; the rear wheels were 7 feet (2.13 m) in diameter.